CULINARY MEDICINE: RECIPES (Updated 26 June 2021)
Jude Catallo & Scott Emerson, MD
Timeless Healing
The daily ritual of preparing and eating healthy food with your family or friends is the most powerful and enjoyable tool available for insuring health, resilience and well being for your self and loved ones. It is easily your most important investment in life, with both immediate and long-term dividends. Regular exercise including gardening and other chores, done in a natural setting outdoors, are certainly a close second. They work synergistically with nutrition to promote robust health and longevity.
Culinary medicine is a relatively new frontier that blends the art of food and cooking with the science of medicine. The personal bridge between the art and science of culinary medicine is your own intuition about different foods. Just like with certain medications, each of us is unique, and may respond somewhat differently to the same foods. Thus, it is important for each person to respect their body's own sense regarding specific foods recommended within any diet. Honing this body to mind connection concerning the body's "feelings" about certain foods is greatly facilitated by intermittent fasting.
Diets come and go and we have evaluated the rationale and outcome data of almost all of the published diets out there. Some try to address specific disease states like ketogenic diets for seizures or the DASH diet for high blood pressure. But most diets have only marginal advantages or disadvantages over one another in achieving improved markers of health. Given this reality, the track record of success and ease of people being able to stay on any specific diet is given major consideration in our review. We have worked in our kitchen to develop delicious recipes for a basic diet that follows evidence based patterns of eating, known to promote longer, healthier life spans for the vast majority of people. Our goal is to keep the recipes simple and easy to prepare, without exotic ingredients or methods. Following our culinary medicine recommendations for even 1 to 2 days a week to begin to change your pattern of eating will be beneficial. Our version of culinary medicine is not a specific diet but is based largely on two well-defined, well-researched diets- The Longevity Diet2 & The Anti-Inflammatory Diet3. Both are modifications of the basic Mediterranean Diet1 originally described more than 40 years ago.
SUMMARY OF CULINARY MEDICINE NUTRITION
Timeless Healing
Plant forward (vegan / vegetarian) with occasional quality sourced fish.
Low Protein (0.35 grams/ pound/day) mostly plant sourced.
Occasional – Fish (3 x / month), Eggs (3 to 4 x / month), Free range, Grass fed, Buffalo or Cow Cheese (1 to 2 x / month).
Moderate to High Fat – mostly from plants (olive oil, nuts, avocados, etc.).
More Vegetables than Fruits.
More Vegetables than Whole Grains.
Phytonutrient Rich Foods & Drinks Regularly (Cooked or Baked Soy, Whole Grains, Beans, Legumes, Cooked/Sauteed Mushrooms, Flax, Turmeric, All Colored Vegetables, Tomatoes, Cruciferous Vegetables, Kiwi Fruit, Red/Purple Berries, Green Teas, & Red Berry Teas).
Phytonutrient Rich Treats In Moderation (Black Coffee, >70% Dark Chocolate, Red Wine).
Avoid overly processed and refined foods, especially those containing any high fructose corn syrup or trans fats .
Daily Mini Fast. (Try to only eat 2 x / day, largest meal first, & confine all your eating to a 10 hour time frame ending as far before you sleep as possible)
NO CALORIE COUNTING. Rely instead on the body's signals and your mindfulness – especially easy after the fasting mimic cycles (see prior post & recipes).
No stress & have fun, the above is ideally what you do 90% of the time.
TO GO STRAIGHT TO RECIPES, SCROLL DOWN
HUMAN PRE-HISTORY: FOOD, SURVIVAL, GENES , & METABOLISM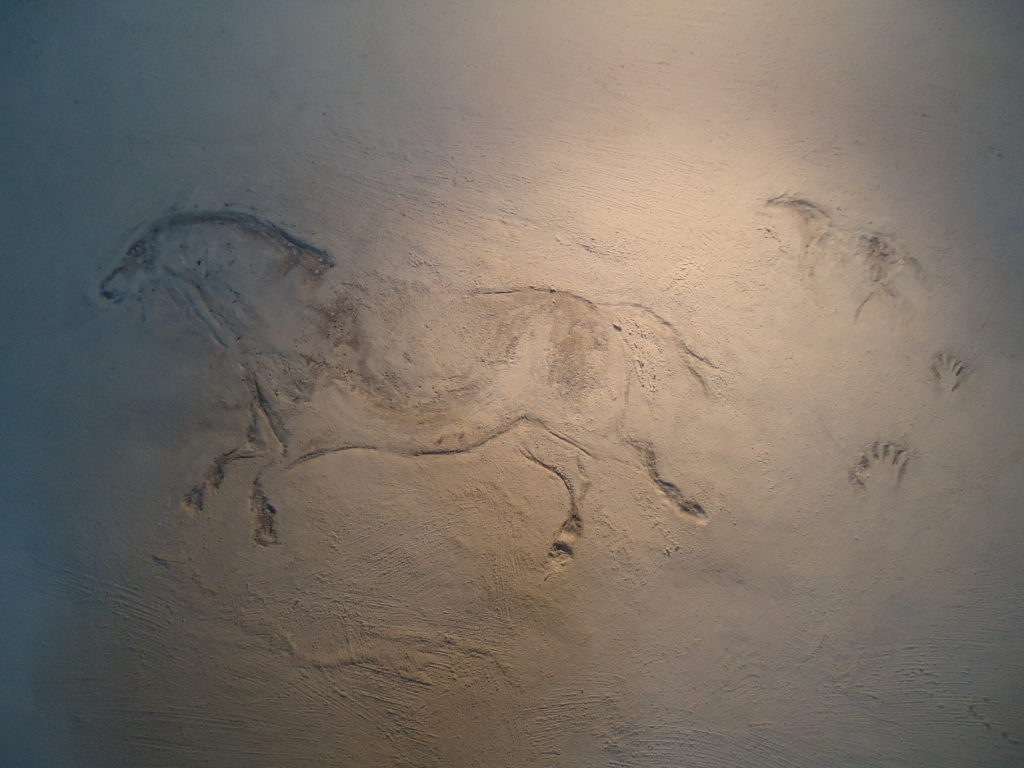 200,000 years ago, humans survived by gathering, scavenging, fishing for, and hunting food, most likely in that order. There was no agriculture and no steady food supply like today. When our ancient ancestors said, "Eat your grub.", they literally meant it! Most proteins came from plants with only occasional animal protein eaten. The intermittent feast or famine nature of food sources over long periods of time led to the selection of a duality of genetic and metabolic responses within our bodies that persists into modern times. Food abundance activated cellular growth and reproduction at the expense of repair and longevity. Food scarcity activated cellular repair and longevity at the expense of growth and reproduction. The effects of these environmentally induced constant metabolic oscillations reached from the cells outward into tribal societies. With food abundance, creating greater numbers of us offered the best chance of survival. With food scarcity, longevity, knowledge and experience of the individual became the best survival strategy. Today with our 24 x7 culture rich with abundant refined sugar, animal protein and highly processed foods (the Standard American Diet or SAD Diet), the scarcity never comes. We are fighting against this deeply imbedded genetic and metabolic legacy concerning food and nutrition. This is causing a wide range of chronic diseases, shortened health spans, great sick care expense, and lots of suffering. Concerning nutrition, we are now learning how to become more attentive and in phase with our ancient metabolic legacy to create a healthful longevity. This is what the Fasting Mimicking2 and the Culinary Medicine Nutrition Recipes are all about.
THE MEDITERRANEAN DIET1
Roughly 50 years ago, Ancel Keys conducted the "Seven Country Study" which monitored the health outcomes of, and foods eaten by men over a 13-year time in different countries. Surprisingly, the 10-year death rates for men on the Greek isles were extremely low for all causes and remarkably low for deaths from coronary heart disease. Further, these men displayed impressive health and vigor into their 80s, 90s, and 100s. Their diet was plant based (vegetables, whole grain cereals, legumes, nuts and fruits). Olive oil was the main source of fats, with moderate amounts of goat cheese, yogurt, and butter. Fish, shellfish, and eggs were the main animal protein sources. Red and processed meats, and foods rich in sugars were eaten less frequently and in small quantities.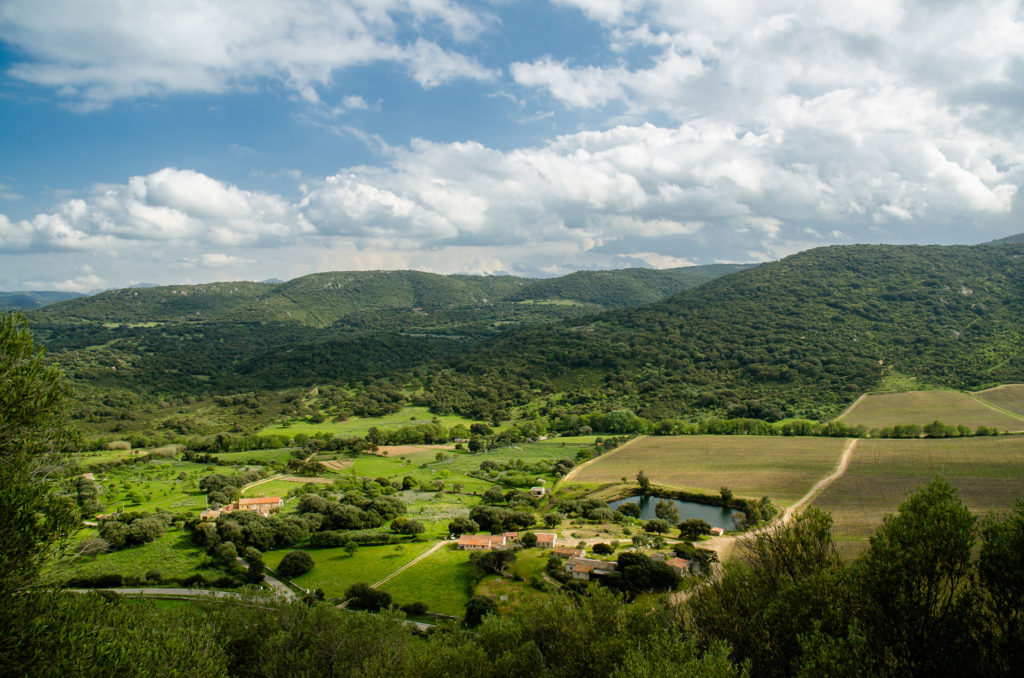 Accumulating evidence now supports 5 areas of benefit, (1) lipid lowering effects, (2) protection against oxidative stress, (3) modification of hormones and growth factors that promote cancer, (4) supporting a healthy gut microbiome, (5) inhibition of nutrient sensing pathways by specific amino acid restriction – low leucine containing proteins, (6) anti-inflammatory effects 3,4.
THE ANTI-INFLAMMATORY DIET3
This diet is actually an eating pattern advocated by Andrew Weil, MD that combines healthy components of traditional Mediterranean and Asian dietary patterns to maximize the healing potential of foods. Both cultures offer foods associated with good health and longevity. Chronic inflammation is now understood to have an underlying role or be the cause of many diseases like cancer, cardiovascular disease, neurodegenerative disorders, depression, obesity, diabetes, asthma, arthritis and inflammatory bowel disease. The focus with this diet is to reduce or prevent the root cause of many diseases by increasing the beneficial anti-inflammatory foods like unsaturated fats and reducing the pro-inflammatory foods in the diet. It includes cooked Asian mushrooms and soy. Like the Mediterranean Diet, it is plant based and rich in phytonutrients, extra virgin olive oil, polyunsaturated fats from seafood, fiber and magnesium, all possessing powerful anti-inflammatory effects.
THE LONGEVITY DIET2
This diet exploits our new understanding of programed longevity and how to maximize it to create "youthing" of our bodies and expand the number of years of healthy, robust life. It is highly evidence based on "5 Pillars", or data sources.
Juventology. This is the study of molecular, biochemical and cellular responses to type and quantity of nutrients to optimize longevity and resilience. The science of what activates our genetic longevity programs.
Epidemiology. The study of large populations of people to determine what type and quantity of nutrients and patterns of eating are associated with certain diseases.
Clinical Studies. These are the traditional reductionist scientific studies that isolate a specific nutritional variable in randomized controlled trials.
Centenarian "Blue Zone" Studies. The assessment and on site investigation of what and how people in high longevity zones around the world eat, and discovering what all these diets have in common.
Studies of Complex Systems. This is an engineering approach to understanding how different multiple nutritional variables are working together to amplify or neutralize disease.
Its no surprise that this enormously data based diet is vegetarian with occasional fish. Plants make up 90 % of all calories. It includes occasional eggs. Goat cheeses are advocated here used in moderation as goat derived dairy is found to be generally more free of contaminants.5 Processed foods should be avoided as much as possible.

OVERVIEW OF MACRONUTRIENTS: PROTEINS, FATS, & CARBOHYDRATES
Despite spending more and more on health care, Americans are living shorter and sicker lives6. We know there are multiple reasons for this, including increasing stress and suicides, increasing toxic burdens from pollution that weakens our resilience to all diseases, and a sedentary life style detached from nature (see "Forest Bathing" post on health benefits). But the most important reason is our Standard American Diet (SAD) that has resulted in the dramatic rise of "a diverse list of organ system disorders" – AKA, chronic disease6. If we look at the major differences between the SAD nutrition and all of the three diets referenced above, we find a glaring difference related to the quantity and quality of macronutrients. We eat far too much protein, especially from animal sources. We don't eat enough fats, especially healthy fats. And, we eat far too much sugar and refined and processed carbohydrates.
Proteins – goal is 8 to 12 % of all dietary calories2 as a maintenance for healthy adults, BUT, goal should be at least double this at the expense of both the fat and carbohydrate % if you are an athlete in training, pregnant, healing from surgery, over 70 years old, or a growing child.
Proteins are much more satiating or filling than either fats or carbohydrates, yet have less calories per weight than either. Proteins are made up of extremely long chains of 20 different amino acids, like different colored beads on an extremely long necklace. 11 of these amino acids our bodies can make, but the remaining 9, the "essential amino acids", we must obtain from our diet. It is a common misconception that we must eat animal protein in order to obtain all these essential amino acids that we need from our diet, when in fact, whole grains and beans together supply all 9. When eaten, protein is disassembled into its individual amino acid beads which are recycled to create new protein necklaces that our body's intelligence determines that we need. If you eat protein in excess of this need the body converts it into fat or sugar for storage. This is why it is important to eat most of your daily protein within 1 to 2 hours of completing any resistance training in order to build muscle proteins instead of fat.
High Protein Diets Greatly Increase Cancer Risk2. Much like the trend we are seeing now among the American people, it has been understood for a while that animals on a high protein diet age faster and have shorter, sicker lives regardless of weight2. These animals also had a very high incidence of cancers as well as enhanced growth and spread of already established cancers2. Americans on the Standard American, high protein diet, were found to have more chronic disease and a 400% increased risk of cancer mortality over those consuming a lower protein diet like we are advocating. High amounts of protein activate and rev up the growth and reproduction mode of our cellular metabolism sacrificing longevity. This amplifies cancer and other diseases. Two specific essential amino acids, leucine, and methionine, found in high amounts in animal proteins, but in much smaller amounts in plant proteins, are thought to be responsible for this. Leucine specifically activates the enzyme mTOR, the main cellular metabolic switch that turns on growth and reproduction at the expense of longevity and repair4. Chronic degenerative diseases of aging and cancer flourish when our cells are continually stuck in this metabolic state. Additionally, many cancers cells that are constantly growing & reproducing have a much greater dependence, specifically for methionine, than normal cells. Their mutations cannot use this essential amino acid efficiently and they die without higher levels as opposed to normal cells that continue to thrive at much lower levels of methionine7. Another non-protein amino acid, choline, found in egg yolks, and an important building block for neurotransmitter synthesis, has also been found to feed cancer cells and promote their spread2. For this reason, we recommend reduced egg yolk or egg white only omelets for any one with a cancer diagnosis. All these facts expose a serious downside to the now popular higher animal protein diets like the Paleo Diet.
Fats – goal is 50 to 60% of all dietary calories2.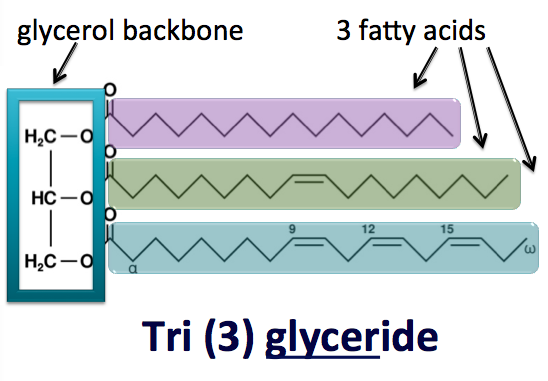 Dietary fats are most commonly found in molecules with an E shaped configuration called triglycerides. Each E contains 3 fatty acids (FAs) making up 90% of the E as it's horizontal arms. Every different fatty acid consists of a chain of Carbon atoms of differing lengths. If all of the links between these Carbons are single or "saturated" this is called a Saturated Fatty Acid, or SFA. But some fatty acids may have a double link at only 1 point in the chain and are termed a "Mono Unsaturated Fatty Acid" or MUFA. Further, some fatty acids have a double linkage at 2 or more places in the chain and are termed a "Poly Unsaturated Fatty Acid" or PUFA. If these PUFAs have the first double link 3 spaces away from the end of the horizontal E arm, it is called an omega 3 PUFA. If the first double link is 6 spaces away from the end of the horizontal E arm, it is called and omega 6 PUFA. Clean sourced cold water fish like sockeye salmon, mackerel, herring, and sardines are especially rich in omega 3 PUFAs. These omega 3s are called "essential fatty acids" since they must be acquired through the diet. Grains and their oils are rich in omega 6 PUFAs. Almost all dietary oils are actually blends of the different types of FAs described above, but usually with one type dominating. SFAs are generally solid at room temperature, while MUFAs and PUFAs are generally liquid. When eaten, the body takes the E molecule apart releasing the three horizontal arms each of which may be a different style of fatty acid. The body's innate intelligence may take these to different sites to build or repair structures like cell membranes, or, balance our immune system, or, burn them immediately for energy instead of glucose, or, store any excess in fat cells for future use, creating fat tissue. Trans Fatty Acid (TFA) is a man made FA called partially hydrogenated vegetable oil that is very damaging to the body and should always be avoided.
Unsaturated Fats are Favored Over SFAs2,8.
Good SFAs. In general, chronic excess dietary ingestion of medium and long chain SFAs of animal and plant origin are associated with atherosclerotic cardio vascular disease, high cholesterol and can be pro-inflammatory. However, SFA from coconut oil may have significant benefit to the brain. We also use clarified butter, called ghee, in our recipes. It is a blend of dairy SFAs with all the animal protein removed, and is a great cooking fat because of it's high smoke point @ 4820F. It also has a nice flavor profile. The smoke points of fats are the temperatures where the fats begin to break down into toxic substances. Dark chocolate contains another healthy SFA which is quickly converted into olive oil (a MUFA) once in the body. In addition, very short chain (4 to 6 Carbon) SFAs are very beneficial for intestinal health and it's microbiome.
MUFAs. Regular consumption of MUFAs (avocados, tree nuts, etc.) in the diet lowers the risk of cardiovascular disease and is anti-inflammatory, helping to prevent many chronic diseases. Extra Virgin Olive oil is a major source of MUFAs within all of our non-cooked recipes, but it should not be used as a cooking oil because of its low smoke point temperature of 3750F. Instead, we suggest avocado oil (a MUFA); smoke point 5200F for cooking, sometimes mixed with ghee.
PUFAs. These types of FAs offer the greatest health benefits. They are important structural fats within cell membranes allowing cells to function better with more flexibility. This is especially important in the blood vessels and for brain health. The ratio of omega 6 to omega 3 types of PUFAs is also extremely important in setting the proper balance of inflammation with anti-inflammatory action of our immune system. We need inflammation in order to heal wounds and fight infections, but too much inflammation leads to a wide range of chronic diseases. Omega 6 PUFAs tip the balance toward inflammation, while omega 3 PUFAs tip the balance toward an anti-inflammatory action of the immune system. The ideal ratio of omega 6 to omega 3 PUFAs is thought to be 4 to 1. Those eating the Standard American Diet ingest a ratio of around 16 to 1, a pro-inflammatory skew, leading to increased cancer, cardiovascular and autoimmune disease risks.
Carbohydrates – goal is 40% of all dietary calories2.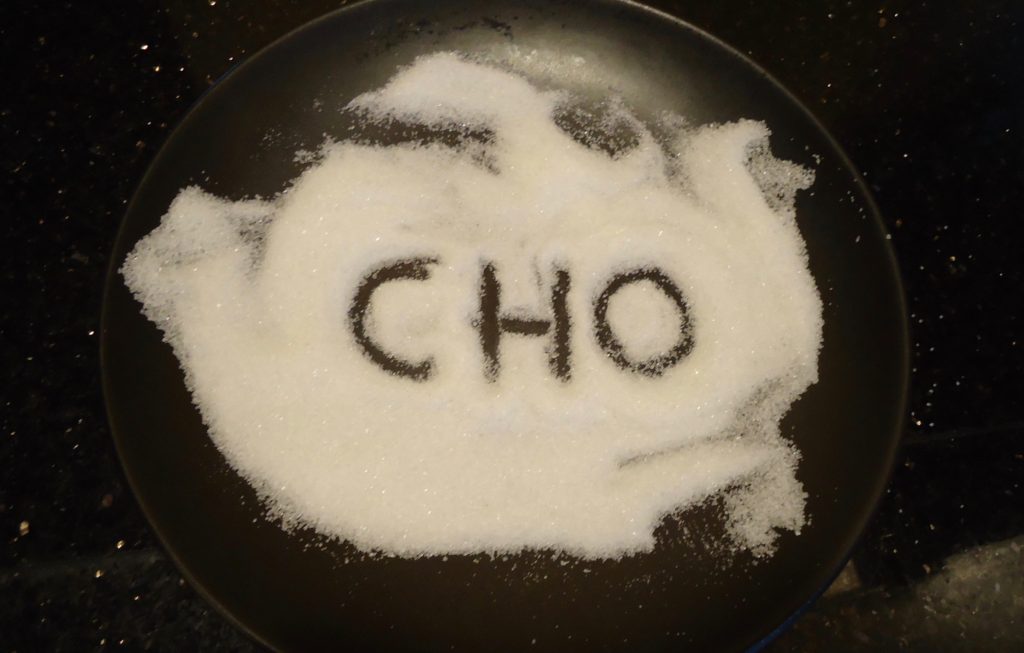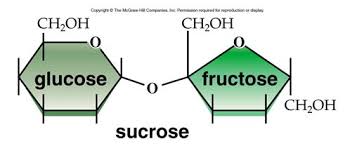 All carbohydrates (CHOs) are not created equal. The basic building blocks of carbohydrates are ringed structures. These rings consist of either 5 or 6 Carbon atoms (simple sugars) configured in a 1 to 1 ratio with water, thus the name carbo-hydrates. There are 5 main forms of CHOs: mono-saccharides (1 ring), di-saccharides (2 rings), oligo-saccharides (3 to 20 rings), poly-saccharides (3000 or more rings), and fiber (un-digestible poly-saccharides). Our culinary medicine recipes avoid or limit simple and refined CHOs like simple sugars, pasta, white bread, rice and fruit juices. Instead almost all CHOs should be sourced from foods rich in complex CHOs like beans, lentils, vegetables and whole grains that contain oligo-saccharides and fiber. Our definition of simple and refined CHOs are all those foods that cause a brisk rise in blood glucose levels and result in insulin spikes. Foods that cause a slow post ingestive rise in glucose and insulin are from a functional and health standpoint, defined as complex CHOs. Glucose and insulin spikes are damaging to the body because they put stress on the pancreas to produce insulin to keep blood sugar within a narrow range, and the excess sugar cannot be all stored by the liver and muscles, so it is converted into fats for storage – a set up for obesity. This is especially true in the late evening and at night when the pancreas is in its circadian rest phase. In addition, the excess sugars bind to proteins everywhere and interfere with their proper function. But ingestion of complex CHOs has been well documented to provide good fuel to run the body without this collateral damage. A diet consisting of slowly digested carbohydrate foods is strongly associated with: a decreased risk of coronary artery disease, type 2 diabetes, cataracts, improved glucose control in type 1 diabetics and decreased overall inflammation 8.

CAUTION on "Xerosialitis" From Sheep and Goat Cheese Protein Glycosylation Coating with Neu5Gc Sialic Acid 9,10,11. Sialic acids are a family of naturally occurring, amine substituted, 9 carbon sugars that cap the sugar coatings (glycosylation) on all proteins throughout the body. Their major function in the body is to help the innate immune system discriminate between self and non-self. Each of our cells express many millions of carbohydrate chains coating the outer surfaces of protein molecules everywhere in the body. The immune system in humans recognizes a specific sialic acid, N-acetylneuraminic acid (Neu5Ac), that we normally manufacture and insert on the surface of our cells, as self. But all non-human mammals are able to make a different sialic acid, N-glycolyneuraminic acid (Neu5Gc), coating their animal proteins, that when eaten by humans, cooked or uncooked, is absorbed into our blood stream and becomes incorporated onto the surface of our cells. This is then recognized by our immune system as non-human or non-self. It sets the stage for an autoimmune, inflammatory attack (xerosialitis) on our own cells that carry this alien Neu5Gc . This dietary triggered chronic inflammatory stress can predispose us to cancer development and progression, autoimmune diseases like psoriasis or rheumatoid arthritis as well as atherosclerotic cardiovascular disease. Only red meats and dairy carry this alien inflammatory sugar. It is not found on fish or poultry meat, or on egg proteins, and these do not cause xerosialitis. Notably, some red meats and dairy sources have far less Neu5Gc on their proteins than others. Specifically for cheeses: sheep has the most, followed by goat, with cow swiss cheese 97% less that solid goat cheeses, cow parmesan 98% less than solid goat cheese, and buffalo mozzarella 99% less than solid goat cheese. With this latest evidence, we feel it is prudent to limit dairy to either high altitude free range cow swiss cheese, cow parmesan cheese, or to buffalo mozzarella. This will still allow some dairy in the diet while minimizing chemical contamination from factory dairy farming techniques as well as limiting exposure to Neu5Gc.
REFERENCES
Keys, A et.al; "The 7 Countries Study.", Preventative Med. 13 (12) : 141-154 (1984)
Longo, V: "The Longevity Diet" Book, Avery/ Penguin Pubulishers, NY, NY pg 1-267 (2018)
Micek-Galinat, L, Uram, C; The Anti-Inflammatory Diet" Univ. of AZ, Integrative Medicine Curriculum pg. 1-24 (2019)
Greger, M; "Living Longer by Reducing Leucine Intake" Nutrition Facts.org (June, 2015)
Lima, J et. Al.; "Nutritional and Health Profile of Goat Products: Focus on Health Benefits of Goat Milk" Intech Open DOI 10. 70321 (2017)
Woolf, S, Shoomaker, H ; "Life Expectancy and Mortality Rates in the US" JAMA 322 (20) (2019)
Greger, M; "Lower Methionine Diet Helps Starve Cancer Cells" Nutrition Facts.org (July, 2014)
Khalsa, S C; "Introduction to Proteins, Fats and Carbohydrates", Nutrition Foundations Univ. of AZ Integrative Medicine Curriculum pg. 1-75 (2015)
Bashir, S, et al.; "Association Between Neu5Gc Carbohydrate and Serum Antibiodies Against It Provides Molecular Link to Cancer" French NutriNet. Sante' Study. BMC Medicine 18 Article # 262 (Sept. 2020)
Chirag, D, et al. "From Serum sickness to Xenosialitis: Past, Present, and Future Significance of Non-human Sialic Acid Neu5Gc" Front. Immunology 10:807 (2019)
Bardor, M et al.; "Mechanism of Uptake and Incorporation of the Non-human Sialic Acid, N-Glycoylneuraminic Acid Into Human Cells" J. of Biological Chem & Molecular Biology (2005)
CULINARY MEDICINE RECIPES
Timeless Healing
SAVORY QUINOA BREAKFAST BOWL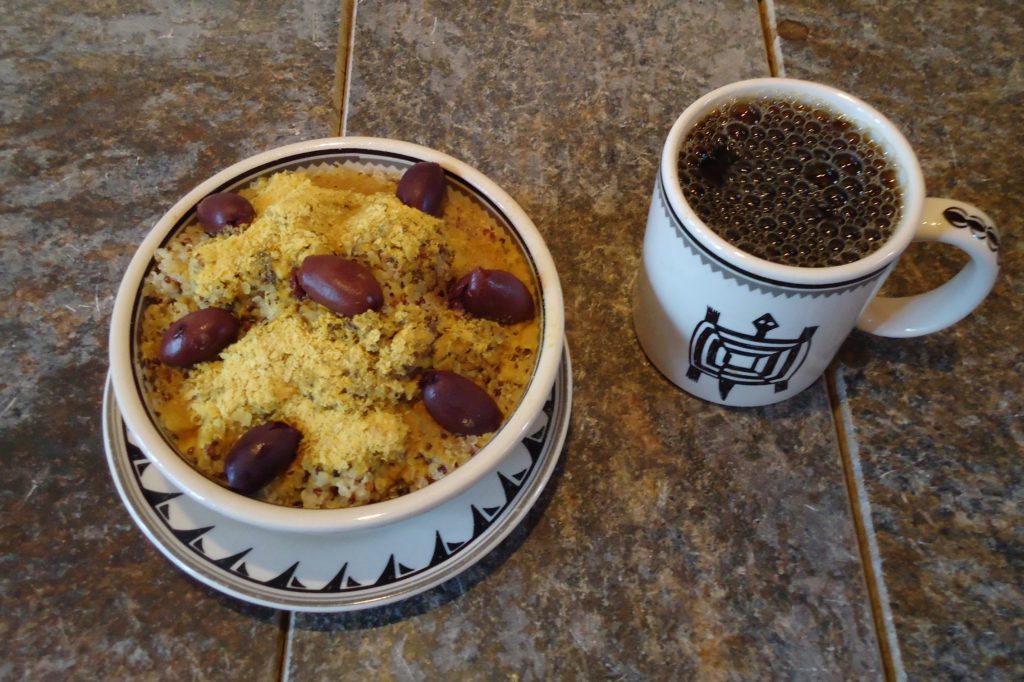 In a medium 32 ounce size pot Add: ½ C of Tricolor Quinoa along with 1.5 C of Clean Well or Filtered Water.
Bring mixture to a boil on medium high heat on the stove top. Once boiling, immediately turn heat down to medium to low and let simmer for a total of 15 minutes.
Use spatula to transfer into a bowl pre-warmed with hot water.
To the top of the Quinoa in the bowl, Add: 1 T of Extra Virgin Olive Oil OR Spray On Olive Oil; 1 to 2 t of Black Olive Water; ½ t of Ground Black Pepper; ½ T of Nutritional Yeast*; 6 Pitted Black Olives (optional), or, 1/4 cup Canned Cannellini Beans, or, Red Kidney Beans
Serves 1 as a hot breakfast dish, best with Black Tea or Coffee
Approximate Prep Time – 20 minutes
Note – All Ingredients are Bolded for Your Shopping List
* 1 T of Fortified Nutritional Yeast contains 4 grams of protein, including 30% of the amount of leucine and 16 % of the amount of methionine amino acids as in a 6 ounce fish fillet containing 170 grams of protein. Although a delicious source of non-animal protein, use sparingly.
PLANTS EAT LIGHT EVERYDAY SALAD
Timeless Healing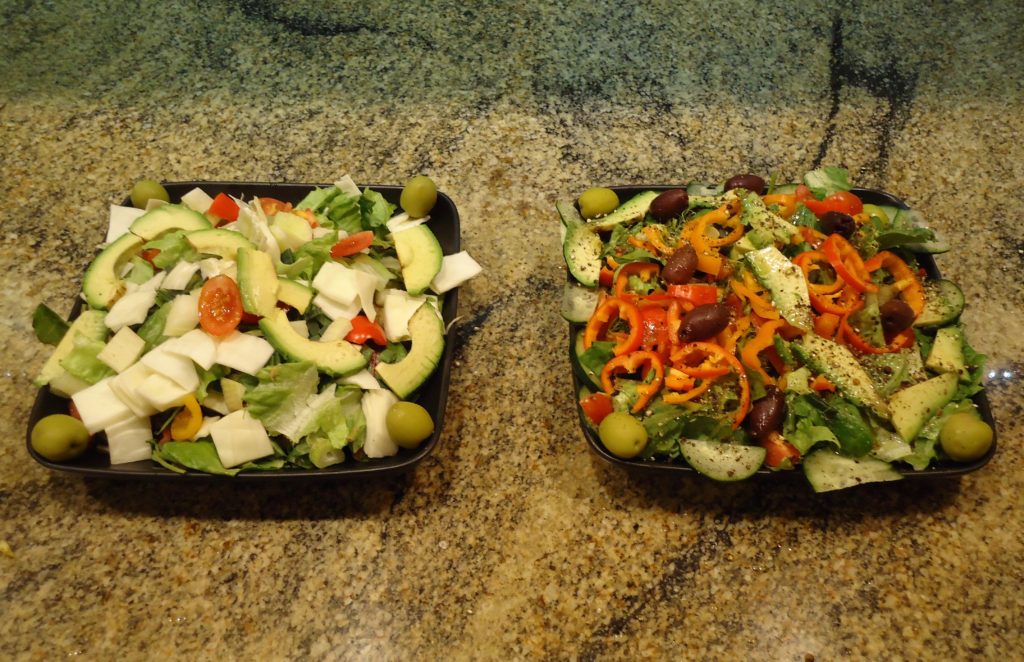 Make this Salad in a medium sized plate
Necessary Tools: Sharp Serrated Vegetable Knife; Wooden Cutting Board; Dinner Fork
Make a base and the bulk of the salad with hand torn pieces of Romaine Lettuce Leaves (see tips on preserving lettuce), and Raw Spinach Leaves.
ADD: 1 to 3 Chopped, Raw, Washed, De-Stemmed, and Cleaned Organic Tricolor Sweet Mini Peppers; 4 to 5 Cherry Tomatoes (quarter or half sliced); ¼ of a pealed & chopped Avocado; 3 to 4 one inch cubes of Raw Green, or Red Cabbage; 3 to 4 Non-Pitted Green Olives; and 5 to 10 pieces Thin Sliced Raw Cucumber
Top with chopped Fennel; or, several Pitted Black Olives, or, Both
Optional ADD: Protein on top with sliced Savory Baked Tofu or Rinsed and Drained Canned Red Kidney Beans
Dressing: 1 T Lemon Juice; 1 T Red Wine Vinegar; 1 T Extra Virgin Olive Oil and Cracked Black Pepper.
Serves 1 "Everyday"
Approximate prep time 25 minutes
Note – All Ingredients are Bolded for Your Shopping List
ROMAINE LETTUCE KITCHEN PREP FOR LONGEVITY
Timeless Healing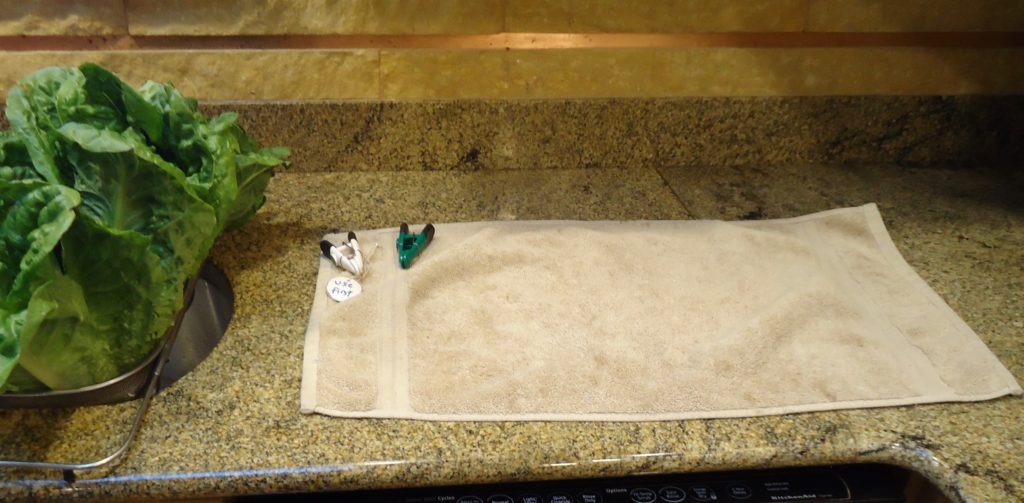 Purchase Full Heads of Organic Romaine Lettuce (as fresh as possible).
Cut the base of lettuces off, freeing the leaves, and discard/compost the base.
Wash leaves thoroughly.
Remove any damaged, torn, or extremely thin or fragile areas from leaves.
Segregate all the leaves that have needed damaged parts removed (above), and place them onto a spread out, clean, dry, dedicated hand towel. Roll the lettuce leaves up loosely in the towel and clip both ends of the roll loosely to hold shut.
Create a reusable tag to attach to one of the clips (see photo above), and mark it "Use First".
Place entire roll into an open top "single use" grocery produce plastic bag with "Use First" tag directed outward at the top of the bag. Leave the end of the bag open.
After cleaning and inspecting, place all of the "perfect" leaves onto another separate, spread out, clean, dry, dedicated hand towel. Roll the leaves up in the towel and repeat the above process of clipping and placing roll into a plastic bag. These " perfect leaves" can last in good condition for up to 3 weeks in the refrigerator and are ready for use immediately to make salads.
Depending on how many heads of lettuce you prep and if you eat salads every day (recommended) – serves up to 20
Prep time – 1 to 3 hours, once every 1 to 2 weeks. Its well worth the time, and just relax into the process with some "Trio Jazz" in the background, sauvignon blanc white wine (summer), or Rhone GSM red wine (winter).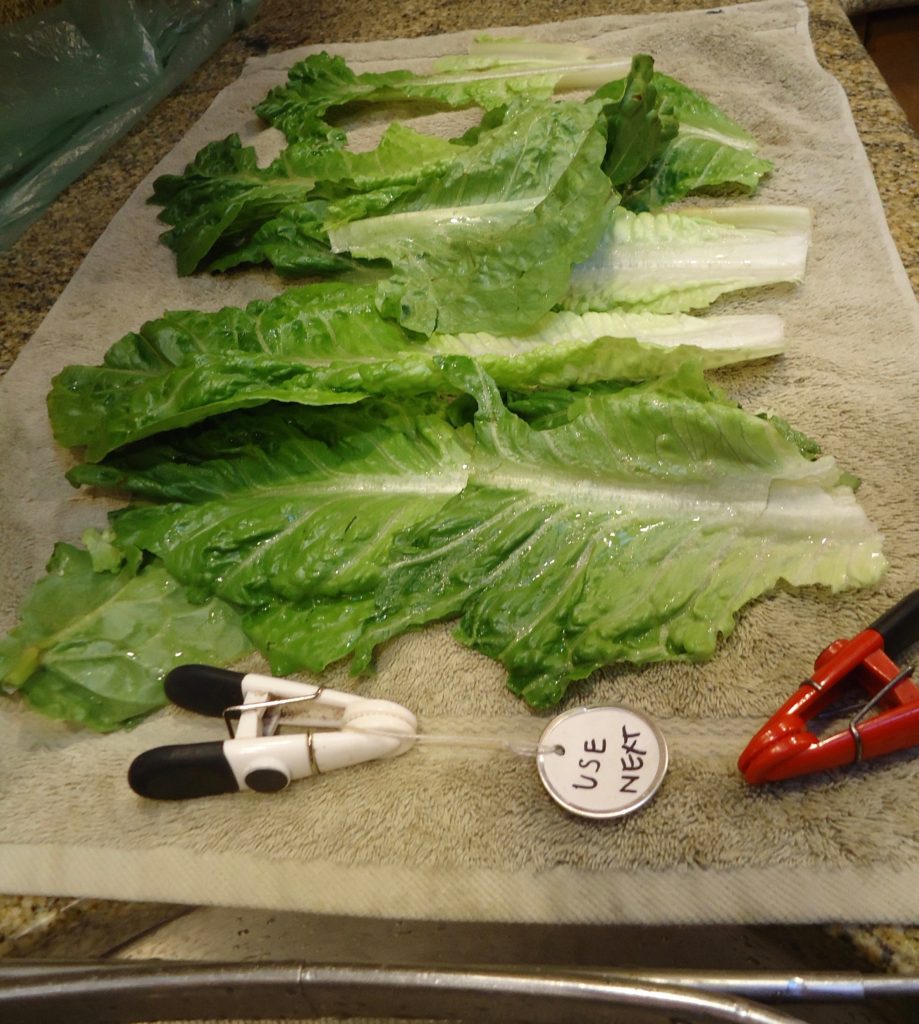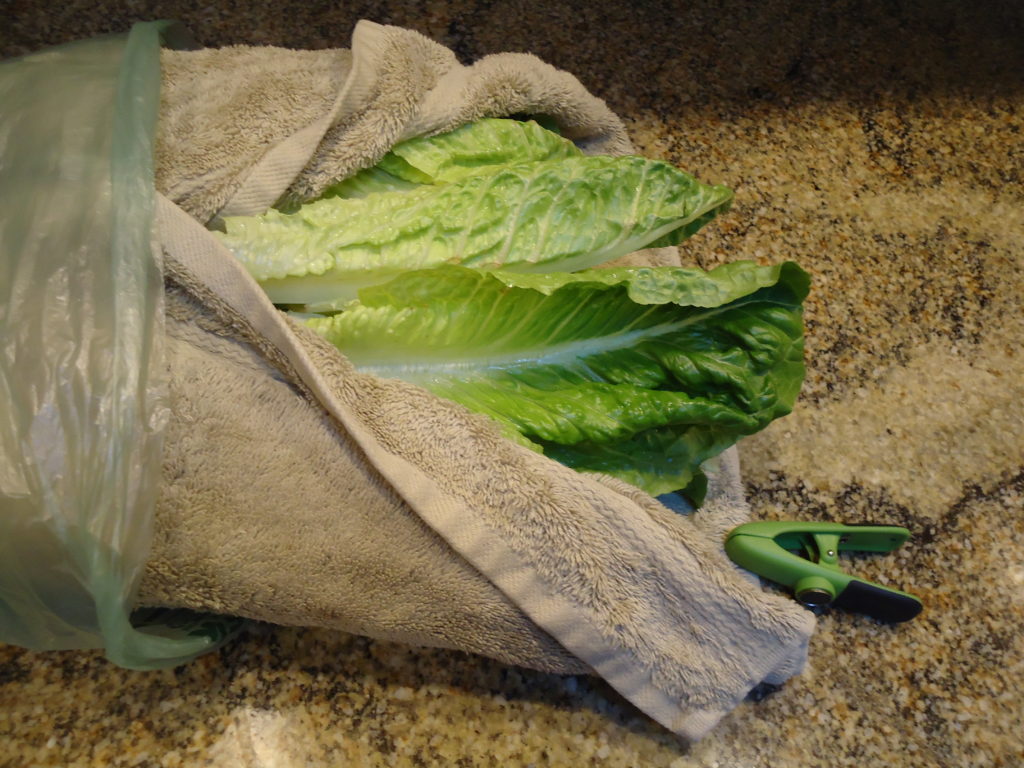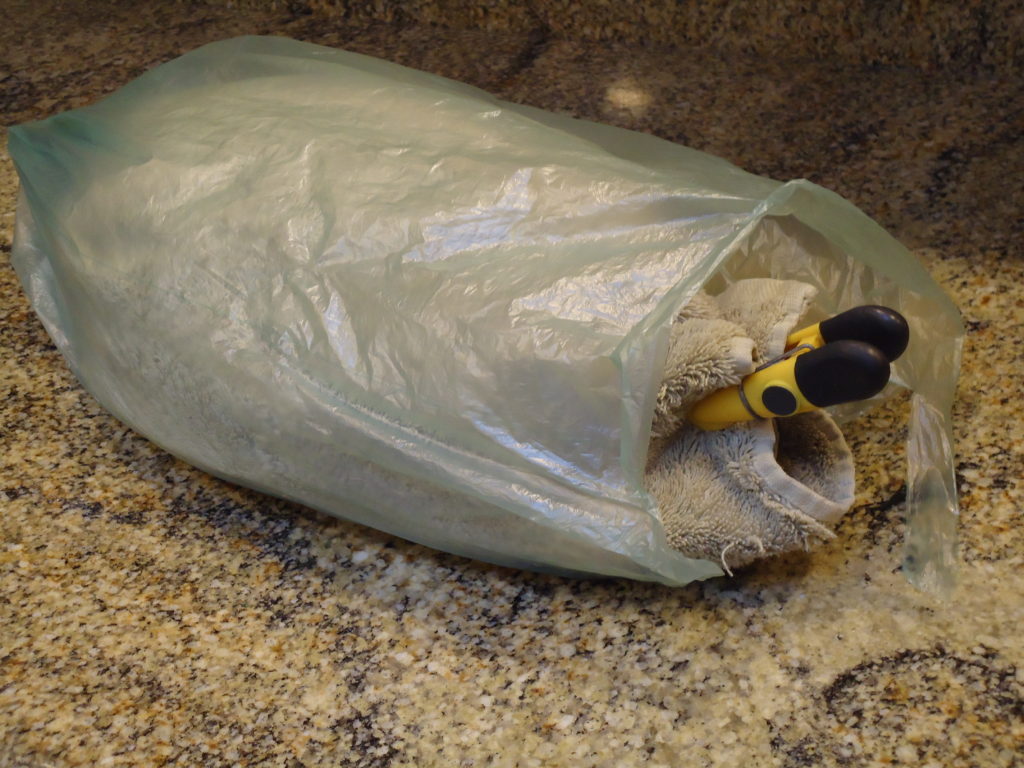 PLEASANT SURPRISE GARNISH
Timeless Healing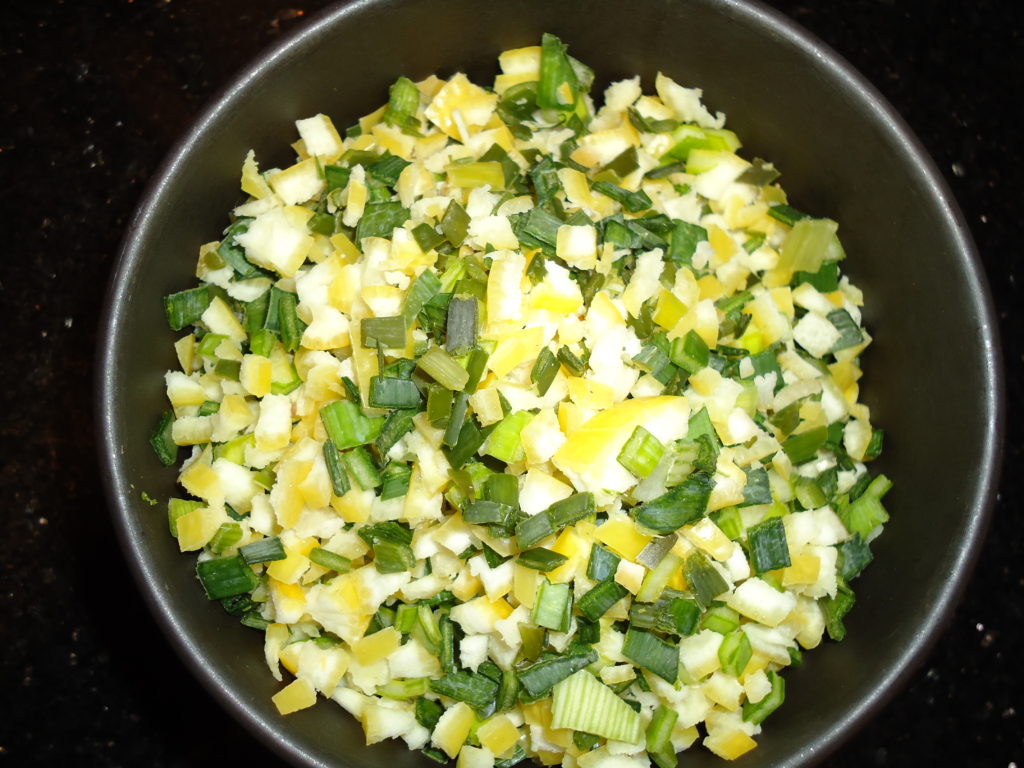 Ingredients. (a) Whole Washed Grapefruit Skins (finely chopped), (b) Leek Leaf Greens (finely chopped)
Mix thoroughly together in bowl and serve.
The Grapefruit. It is important to use organic grapefruit and disinfect grapefruit skins by placing your whole grapefruits in salt brine water for 30 minutes after bring them home from the store. Grapefruit is the fruit with the lowest tendency to raise blood sugar than any other fruit. Peel the skin off the grapefruit with a sharp knife, cut the body of the fruit into bite size chunks for a tasty addition to salads, but don't discard the peel. Cut off a small piece and taste for any extreme bitterness first. If too bitter, discard and try another type of grapefruit. Our experience at Timeless Healing has revealed that yellow and pink, smoother skinned grapefruits are the best and least bitter. The skin of the grapefruit is actually the healthiest part of the whole fruit as it contains high concentrations of beneficial terpenes like d-limonene. Chop it up into tiny squares and place into a glass bowl.
The Leeks. Cut off the greenest portion of the large leek leaves and wash the blades thoroughly with water to remove any dirt. Chop the leaf blades into tiny squares approximately the same size as the chopped grapefruit skins (above). Place these into the bowl containing the chopped grapefruit skins and mix them together thoroughly in a 50/50 ratio.
The Surprise. Now sniff the whole mixture and experience a pleasant surprise. Sometimes one plus one can equal more than two! Enjoy this as a low calorie, hearty, aromatic and flavorful topping on salads, grilled fish or other dishes as you choose. This mixture will keep well in the refrigerator in a glass bowl with a snap on top for up to a week for use as needed.
HEALING SOUP
Timeless Healing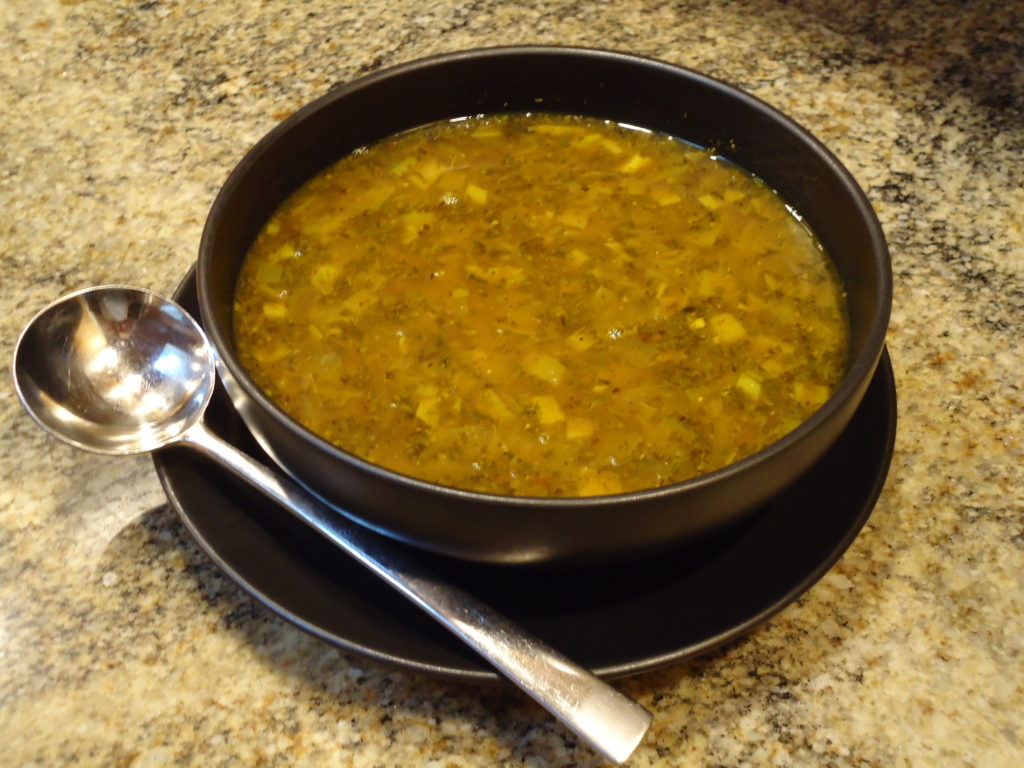 In Large 60 ounce pot, sauté: 2C finely chopped of red or white onion or leeks ; 2T of minced fresh garlic (6 to 8 large cloves) in ½ C of Ghee oil & ½ C of Avocado Oil
Add: 2T of dried Oregano; 2T of dried Thyme; 1.5 T of Turmeric; 2 T of Spicy Mrs. Dash; one half t Pink Salt ; ½ t Black Pepper (to taste)
Cook on medium heat on stove top for 2 minutes and stir often,
Add: ¾ C of White Wine or Vermouth
Add: Two 16 ounce cans of rinsed and drained White Cannellini Beans, or, Other White Beans; 4 C of clean well or Filtered Water with 2 T of Vegetable Broth Powder, OR, alternatively 4C of Pre-mixed Liquid Vegetable Broth
Bring to a boil, then…
Reduce heat and let simmer for 45 minutes.
Approximately 50 ounces total – serves 4 and can refrigerate for multi-day use
Approximate Prep Time – 1 hour
Note – All Ingredients are Bolded for Your Shopping List
RED BEANS & RICED CAULIFLOWER
Timeless Healing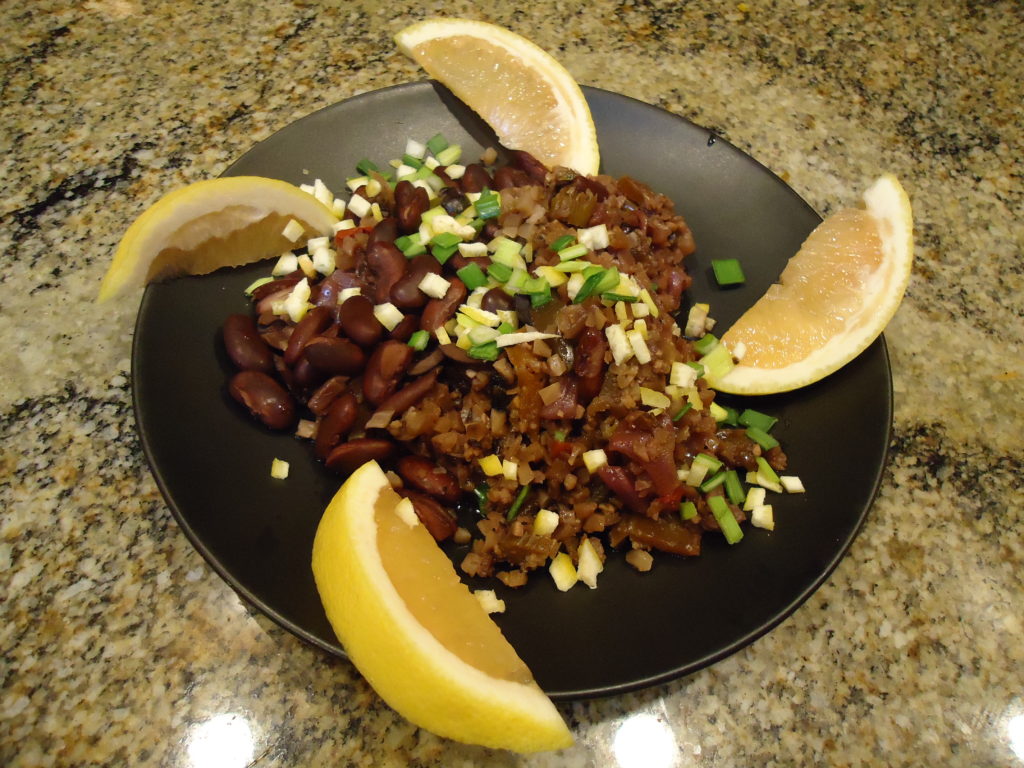 Necessary Tools: (a) Large Ceramic Coated, Non-Stick, Metal Frying Pan with at Least A 1.5 inch Depth, (b) a Matching Domed Lid to Cover the Pan, (c) Wooden Cutting Board, (d) Serrated Vegetable Cutting Knife, (e) Broad Spatula, (f) Measuring Spoons & Cups, (g) Kitchen Timer
With Heat Off, ADD in the Following Order to the Pan: (a) 3 T Avocado Oil, (b) 2 T Ghee, (c) 1.5 C of Chopped Leek Stems, OR, Chopped Red Onion, OR, Chopped Yellow Onion, OR, Mixture of All Three, (d) ½ C of Chopped Red Cabbage, (e) 1C of coarsely chopped SnoPac Brand Frozen Organic Tri-Color Peppers, (f) 1.5 T of Dried Minced Garlic Buds, (g) 1 to 2 t of Ground Black Pepper.
Place the Pan with the above mixture with lid covering on high heat. Intermittently remove lid and stir mixture with spatula EVERY MINUTE to avoid burning and watching for the volume of vegetables to shrink significantly over the next 4 to 5 minutes.
Then ADD 5 T of Black Olive Water and reduce heat to Medium and stir in with spatula thoroughly, then cover pan again with lid for an additional 2 minutes on the medium heat.
Remove pan lid and ADD: (a) 4 C (a single 12 ounce bag) of Frozen Riced Cauliflower, (b) 1C of Red Wine, (c) 7 Pitted Black Olives (optional), (d) ½ of a standard 15 ounce can of rinsed and drained Canned Red Kidney Beans or Pinto Beans. Mix all ingredients thoroughly in the pan.
Now turn heat on cook top up to high again with the pan lid off to boil off most, but not all, the moisture and alcohol (approx. 5 minutes).
Turn heat down to low or keep warm with lid on again – and now ready to serve.
Serves 4 to 6
Prep time – 40 minutes
Note – All Needed Tools & Ingredients are Bolded for your Shopping List
STEAMED & JAZZED CAULIFLOWER
Timeless Healing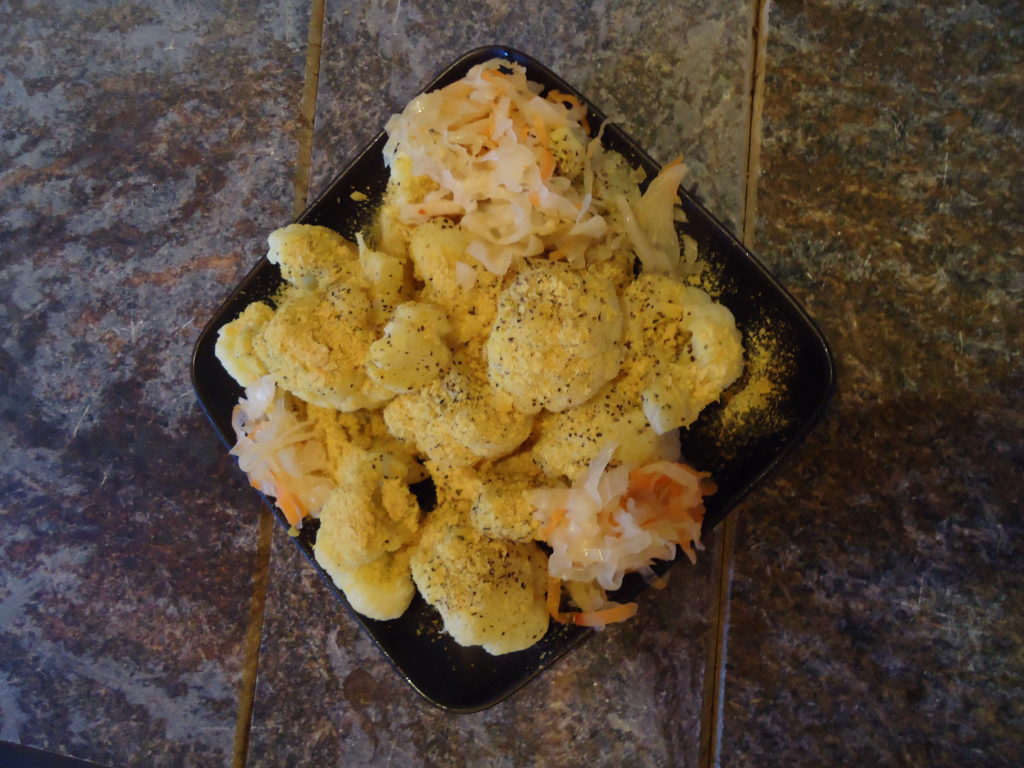 In a large 60 ounce pot place a 1 inch depth of Clean Well or Filtered Water
Chop a Medium Sized Fresh Raw Cauliflower into 1 to 2 inch wide florets, rinse, and place into a vegetable steaming basket sized to fit into the pot and then set aside.
Place a lid on the pot with the water and bring to a boil on high heat.
Once boiling, place basket containing cauliflower into the pot, cover with a lid and reduce heat to low medium.
Allow the Cauliflower to steam until you begin to smell it, then check it with a fork for firmness. Ideal steaming is for the fork to easily pierce the cauliflower and be able to lift it up but without it tearing apart or becoming mushy.
Transfer cauliflower to a pre warmed plate and spray the top of it with Spray on Olive Oil.
Add Several sprinkles of Ground Black Pepper on top and follow with ½ T of Fortified Nutritional Yeast* sprinkled over the top
Add 1 to 2 T of Fermented Kim Chi on the side of the dish
Serves 2 to 3, each dish constructed with toppings separately
Approximate Prep Time – 20 minutes
Note – all Ingredients are Bolded for Your Shopping List
* 1 T of Fortified Nutritional Yeast contains 4 grams of protein, including 30% of the amount of leucine and 16 % of the amount of methionine amino acids as in a 6 ounce fish fillet containing 170 grams of protein. Although a delicious source of non-animal protein, use sparingly.
GLUTEN & GUILT FREE, BRUSSELS SPROUTS MINI-PIZZA
Timeless Healing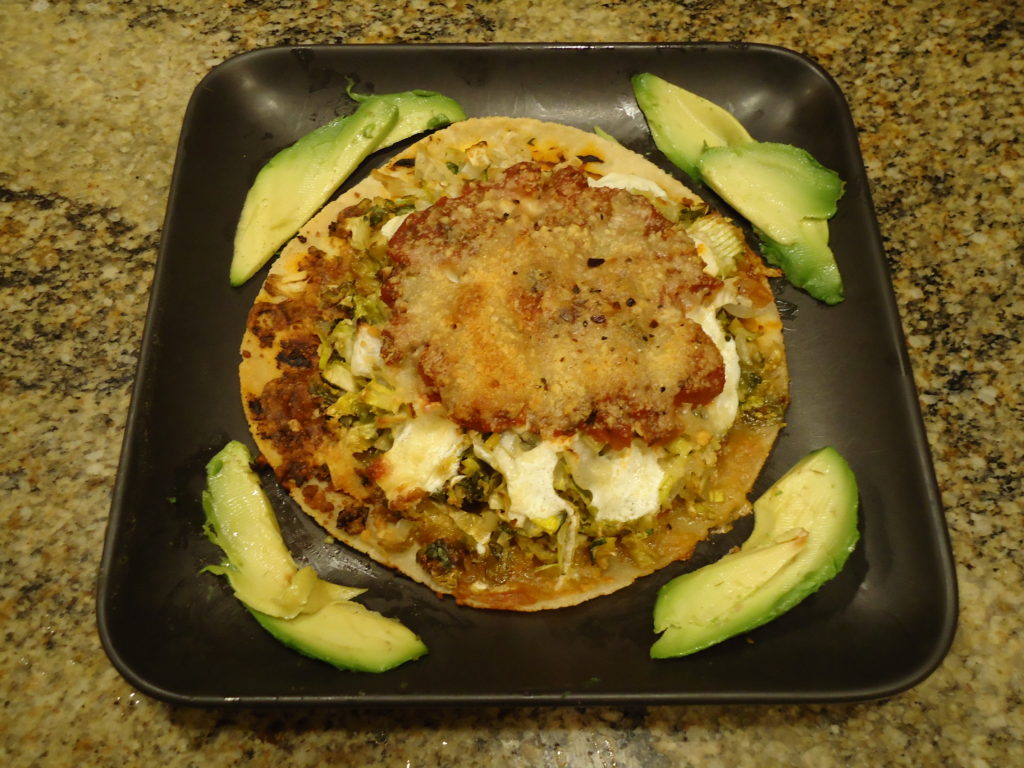 Preheat oven to 4250F.
Wash & trim 16 Medium Sized Brussels Sprouts.
Chop in food processor until well chopped.
Into a medium sized frying pan ADD: (a) 3T of Avocado Oil, (b) 1.75 C of the Chopped Brussels Sprouts, (c) 1/2 t of Pink Salt, and (d) 1/4 t of Black Pepper.
Turn cook top heat to medium low and sauté sprouts until fragrant – approx. 8 to 10 minutes. Then transfer sprouts into a medium sized bowl and set aside.
Place 4 (7 inch diameter) Almond Flour Tortillas on parchment paper and spray with Olive Oil Spray onto both sides and set aside.
Smear top side of tortillas lightly with Tomato Paste, followed by a light sprinkle of Dried Minced Garlic Buds.
Next sprinkle evenly, shredded Mozzarella Cheese lightly on top of the tomato paste and garlic buds.
Place the tortillas into the oven for approx. 4 to 8 minutes until the cheese is melted and the tortilla edges are slightly brown, and then remove from the oven.
To the same medium sized frying pan used for the Brussels sprouts saute', ADD: (a) 3T of Avocado Oil, (b) 2 C of a mixture of well chopped Red Onion. Sauté on medium heat till translucent – approx. 6 minutes.
TO ASSEMBLE PIZZAS. First, evenly distribute the Brussels Sprouts equally to the center of each of the four tortillas, and then on top of the Brussels Sprouts, evenly spread onto each tortilla, the freshly sautéed onions.
Top each of the 4 tortillas with ¼ C of shredded Mozzarella Cheese, and evenly distribute 3 T of Mild Green Mountain Gringo Red Salsa onto the top of each tortilla.
NEXT, to top of each tortilla, add 1T of Grated Parmesan Cheese
Finally, sprinkle each tortilla lightly with Ms. Dash Extra Spicy Seasoning.
NOW bake tortillas in oven at 425 degrees F for 20 minutes till the edges are crispy, but check often. Then remove and cut into quarters with a pizza cutter and add Avocado slices as a garnish.
Serves 4, and nicely paired with an Italian Chianti.
Prep time – 45 minutes
Note – All Ingredients and special items are Bolded for Your Shopping List.
PAN FRIED FISH
Timeless Healing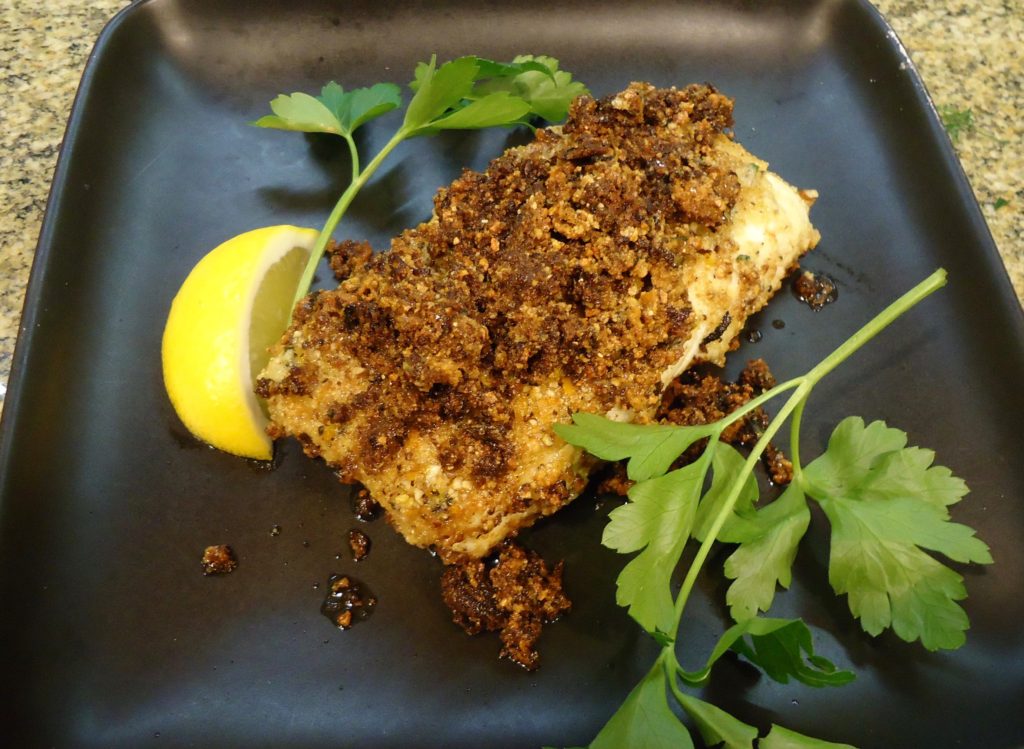 1. PREP OF FISH COATING FLOUR MIXTURE. ADD the following to a very large piece of Waxed Paper on the countertop: (a) ¾ C Almond Flour, (b) ¾ t of Himalayan Salt, (c) ¾ t of Ground Black Pepper, (d) 1 T chopped Fresh Rosemary, or, Ground Rosemary Powder, and, (e) 1 T of Minced Dried Garlic Buds. Mix all ingredients above thoroughly together with clean hands.
2. PREP OF MARINADE TOPPING MIXTURE. ADD the following to a very small pot OR, metal cup: (a) 3 T of Avocado Oil, (b) 2 t of Fresh Orange Peel Zest, (c) 2 to 3 cranks of Cracked Black Pepper, (d) 2 to 3 cranks of Himalayan Salt, (e) 1 t of Minced Dried Garlic Buds. Stir mixture with a teaspoon and set aside on "keep warm" setting on cooktop.
3. Use two 4 or 6 ounce portions of boneless, skinless fish filets (sockeye salmon, cod, whitefish, or halibut), rinsed and dried with paper towel. Roll each filet in the prepared FISH COATING FLOUR MIXTURE making sure each fillet is thoroughly coated and leave them to the side on the waxed paper.
4. In a Large Ceramic Coated, Non-Stick, Metal Frying Pan ADD: 3 T of Avocado Oil and 2 T of Ghee, and heat on medium setting for several minutes until you begin to smell the oil.
5. Then pour or spoon ½ of the MARINADE TOPPING MIXTURE into the pan with the other oils, and immediately transfer both fish fillets from the waxed paper into the hot pan with a metal spatula. That slight frying sound should begin right away, if not, remove fish and adjust heat upward slightly for a minute & then put fish back in. Using kitchen timer, fry 1 to 2 minutes per side (1 to 2 inch thick fish). Only 1 minute or less per side if less than 1 inch thick.
6. Following the second flip, spoon all the remaining MARINADE TOPPING MIXTURE onto the top of the fillets for the final 20 to 30 seconds of the frying then remove fish & serve immediately onto pre-heated plates.
7. Serves 2. Garnish with parsley, and a lemon wedge. Pairs well with an IPA Beer, OR, Sauvignon Blanc Wine. Approximate prep time – 1 hour, but seems less with some John Coltrane jazz in the background.
Note – All ingredients and tools bolded above for your shopping list.