FASTING MIMICKING DIET: RECIPES
FASTING MIMICKING DIET: RECIPES
 
Jude Catallo
Nutrition Consultant & Chef
Timeless Healing
The following sample recipes have been developed, among others in our kitchen, to comply with the caloric density and macronutrient distribution of proteins, fats and carbohydrates as closely as possible to the Fasting Mimicking Diet  (FMD) protocols described and used in the scientific literature reporting health benefits. They can be used during the 5-day cycle of fasting mimicking each month with the total calories consumed each day adjusted for your body weight – 4.5 to 7 calories/ lb. on day #1; and 3 to 5 calories per lb./day on days # 2-5.   The nutrient restrictions are also a key part of this diet with a low protein (9 to 10%), high fat (up to 50 to 60 %) and moderate carbohydrate (30 to 40 %) distribution.  The 2 tablespoons of greens powder dissolved in water daily are also an important part of the fasting cycle, as they supply phytonutrients, minerals and vitamins.  These are available at most health foods stores.  For those who just want to keep it simple but boring, eating 2 whole avocados a day, one in the morning and another in the evening for the 5 day period will also comply with the protocols as far as calories and macronutrients. Our experimentation at Timeless Healing has shown that variation in the food for the fasting mimic cycle increases compliance.  Also, one of the side effects of the FMD is feeling cold and having hot dishes like the soup or mushrooms helps counter this.  Another effect – a good one, is that as your metabolism turns inward and transitions into ketosis, your consciousness does as well with the mind becoming more quiet and reflective.  You may observe that your hunger and satiation reflexes are reset toward less is more, and that your mindfulness and sense of smell while eating has improved especially as you switch back to the "regular diet".
Our recommendation for the "regular diet" during the 25 days off is the pattern of eating we term Culinary Medicine Nutrition.  Please refer to our  post on this web site  titled "Culinary Medicine Recipes": for information on, and custom recipes for, this plant forward/occasional fish style of eating.
When eating your "regular diet" we also strongly suggest that all meals be completed between 8 AM and 6PM  (a 10 hour time frame) to allow a  "mini-fast" of at least 14 hours on an ongoing daily basis.  After initiating the FMD cycles for three straight months, a single one month cycle done 2 to 4 times a year may be all that is needed to maintain your health benefits.
About Ketosis.  Approximately 12 hours into a daily "mini-fast" the body will transition into using fat as a primary fuel to run the body instead of glucose (ketosis).  This will also generally occur beginning on day #2 of the FMD. Short periods of ketosis may have many benefits for the brain: (a.) by decreasing the stress response and anxiety (thru increased production of the brain's natural relaxation compound, gamma-aminobutyric acid -GABA),  (b.) by being utilized as a fuel more efficiently by neuron cells than glucose, and increasing the numbers and efficiency of each neuron's energy factories (mitochondria), (c.) by increasing the natural production of the powerful anti-oxidant, glutathione, & protecting the brain from  neuro-inflammation  and damage to it's DNA, and (d.) by balancing excitable and inhibitory neural pathways  bringing greater synchronization to neuron signaling and balancing mood.  However, long term use of "ketogenic  diets"  has been linked to stress responses in the body, and these diets are  very difficult and impractical to sustain.  We feel that the best way for the average person to reap some of the known benefits of ketosis  with little downside,  is to engage in "pulse ketosis".   This is best achieved via periodic FMD, (monthly or every several months) and by use of the daily "mini-fast".
CRUNCHY PORTOBELLA MUSHROOMS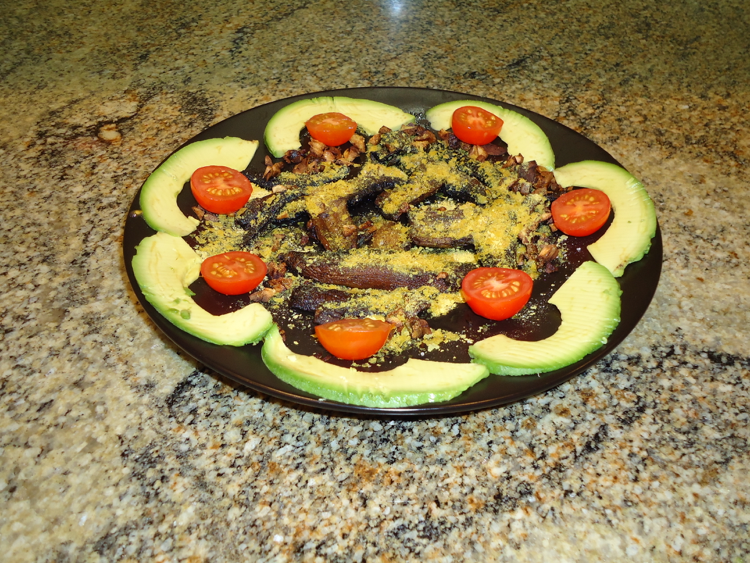 Directions
In a large skillet heat 3 tablespoons of coconut oil on medium / high heat.
When hot, add 6 ounces of Portobello mushrooms sliced approx. 1/2 inch thick.
As mushrooms soften, flatten with spatula.
Chop and set aside 3 large cloves of garlic
When mushrooms are toasty, carefully turn over and toast the other side.
Reduce heat to medium / low and add reserved chopped garlic
Cook for 3 to 5 minutes
Place on heat proof plate and sprinkle evenly with 1 tablespoon of nutritional yeast along with light salt and pepper to taste.
Place in 170 degree F Oven for approx. 10 minutes, or until crunchy.
Serve with 1/3rd of medium avocado sliced and 3 cherry tomatoes sliced.

Total Calories:   720 (2 Servings)  @ 360 Calories Each
Macronutrient Composition:  (10 % Protein; 78 % Fat; 12% Carbs)
AVOCADO SALAD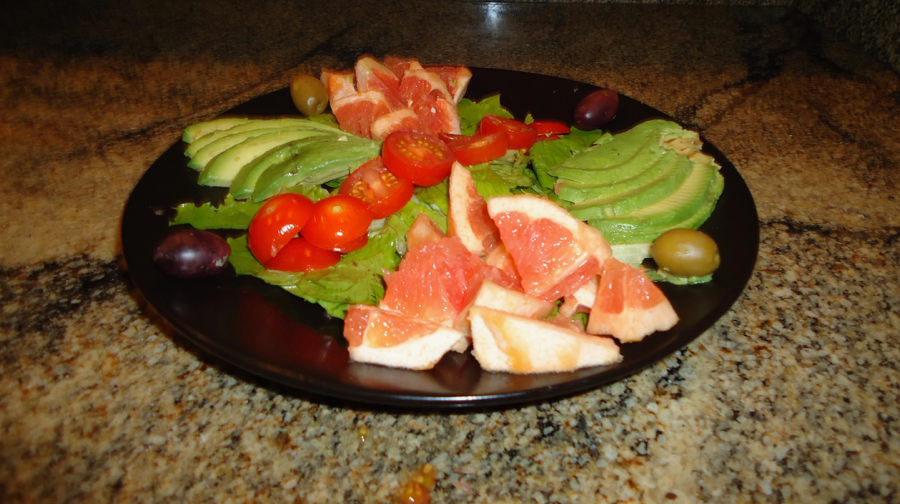 Ingredients:
1/2 Medium avocado – 160 Calories
4 Large romain lettuce leaves @ 5 calories each – 20 calories
1/2 Average grapefruit, skin peeled but rind on and chunked – 60 calories
3 Cherry tomatoes, sliced @ 3 calories each – 9 calories
4 Olives with pit (either black or green) @ 4 calories each – 16 calories
Dressing – 1 tsp Lemon juice, OR, 1 tsp Red Wine Vinegar, Cracked Black Pepper – all three, 0 calories
TOTAL CALORIES:  265 ( 7% PROTEIN, 61%FAT, 32% CARBS)
You may also Add a few of the items below being conscious of the added calories:
8 Walnut halves @ 13 calories each – 104 calories;
10 Pecan halves @ 14 calories each – 140 calories; 
20 Almonds @ 5 calories each – 100 calories
10 unsalted pistachios @ 13 calories each – 130 calories
10 whole cashews @ 10 calories each – 100 calories
1/4 tsp. of dried minced garlic as topping – 1 to 2 calories
1 tsp. of chopped fresh parsley as topping – 1 calorie
1 tsp. of chopped fresh basil as topping – 1 calorie
10 blueberries @ 1 calorie each – 10 calories
Note:  We also find that we can make a delicious fasting breakfast by just using measured quantities of  these various nuts (above) & a few blueberries. 
EGGPLANT DIP (BABA GANOUSH)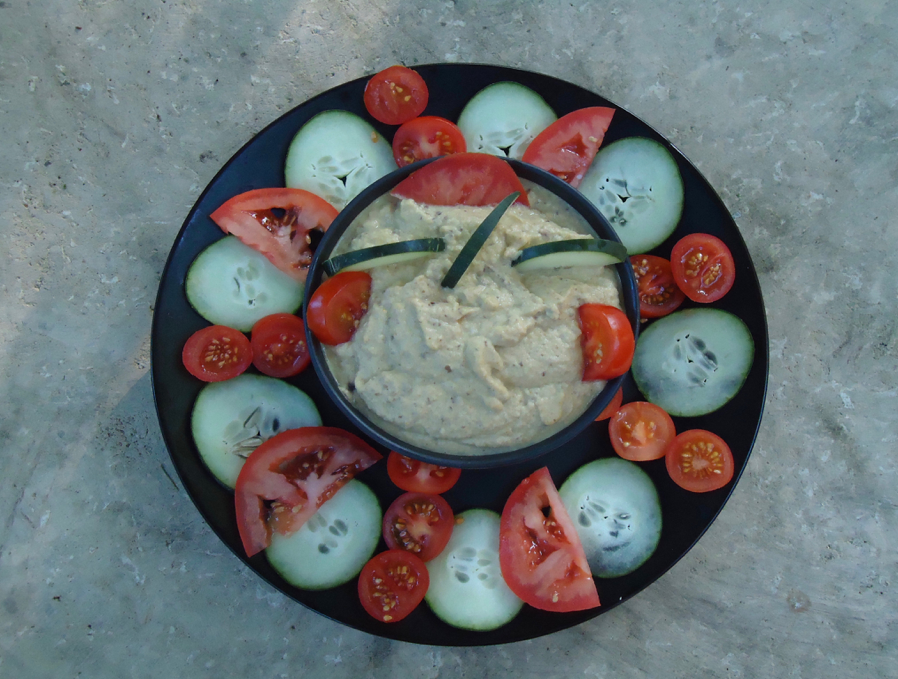 Directions
Boil 1 pound of eggplant chunks in salted water for 5 minutes.
Combine in food processor:

Cooked & drained eggplant
4 tablespoons of tahini
9 tablespoons of Lemon Juice
2.5 tablespoons of olive oil
4 cloves of fresh garlic
1/2 teaspoon of cumin

Blend to smooth paste and add salt and pepper to taste.
Serve with 1 cup of sliced cucumber and 6 cherry tomatoes
TOTAL CALORIES:   877 (4 servings) @ 219 each
MACRONUTRIENTS:     9% PROTEIN, 63% FAT, 28% CARBS
COMFORT SOUP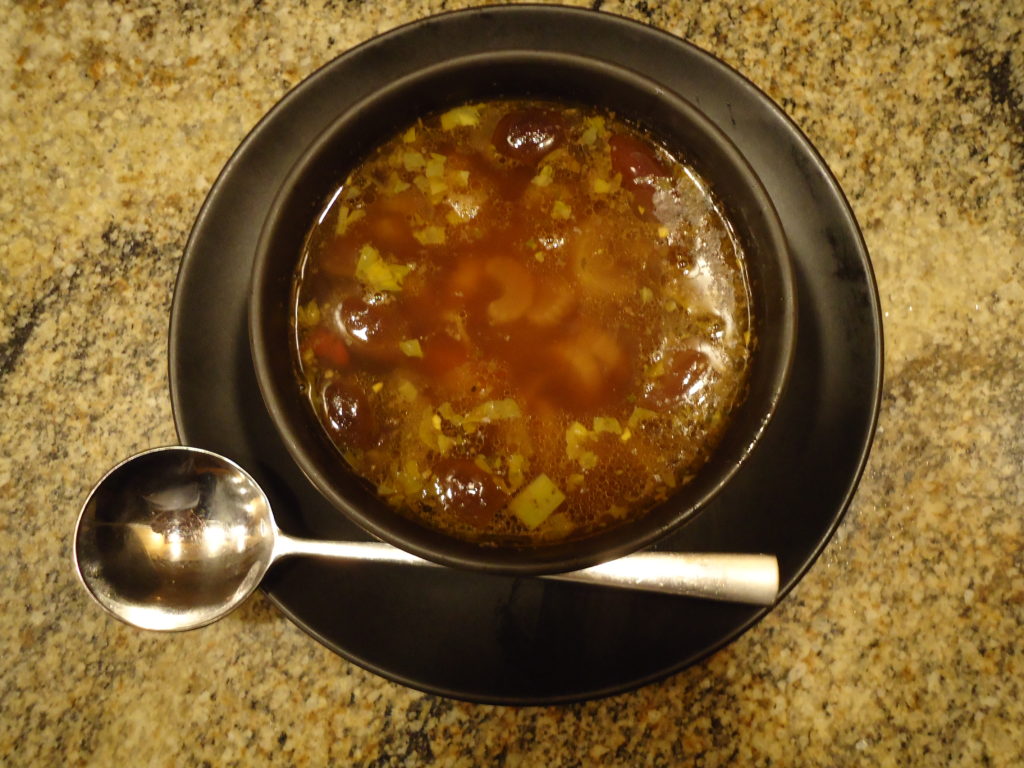 Directions
In the bottom of a large (at least 72 ounce pot) place 2 T of Avocado Oil along with 1 T of Ghee.
Add 1.5 Cup of Chopped Celery, and 1 heaping Cup of either Chopped Leek Stalks OR Red Onions, PLUS 1 Cup of SnoPac Brand Frozen Organic Chopped Tricolor Peppers PLUS 2 T of Minced Garlic Buds, ADD 1 to 2 tsp. of Ground Black Pepper.
Place on stove top burner on medium high heat with lid covering the pot for not more than 5 to 7 minutes and STIR FREQUENTLY with spatula every 2 to 3 minutes to keep from burning. Then ADD 2 to 3 T of Black Olive Water and decrease heat to medium low for an additional 4 minutes with pot lid on, and stirring with spatula every 2 minutes to check for burning. Decrease heat as needed if this occurs.
ADD 2 Cups of Organic Vegetable Broth, and ADD 5 ounces of Alcohol Free Red Wine, and top off pot with Clean Filtered Water to achieve approx. 60 ounces total volume of soup. Now with lid off, turn heat on stove top back up to high and bring to a boil.
ADD 12 Pitted Black Olives PLUS ½ to 1 Cup (approx. ½ of 15 ounce can) of rinsed Organic Red Kidney Beans or equal amount of Black Beans or Pinto Beans and reduce stove top heat to low setting for 10 to 20 minutes.
Serve and ADD additional Black Pepper or Himalayan Salt to taste.
TOTAL CALORIES:
900 For Entire Pot of Soup – 60 ounces; (2 servings – 30 ounces @450 each, OR, 3 servings – 20 ounces @300 each, OR, 5 servings -12- ounces @ 180 each)
MACRONUTRIENTS: 9% PROTEIN, 55% FAT 36% CARBS