THE GIFT OF WATER'S FOURTH PHASE: IT'S LIVING FORM
THE GIFT OF WATER'S FOURTH PHASE: IT'S LIVING FORM
Scott Emerson, MD, ABIHM, FACMT
"Just when I think it can't rain any harder or longer than this; and I can't get any wetter than this; it does, and I am." – personal log, Bagua Mountains wilderness, Amazonas, Peru, July 8, 1978
The most powerful experience I've ever had with water occurred in the months I spent as an expedition physician in a cloud forest that receives over 20 feet of rain annually and is located at the interface where the Andes drop off into the lowland Amazon Basin. The torrential rain for weeks on end, no sun, cold, no ability to make a fire, and being continuously wet even with great tents and rain gear, beat my body, mind and spirit into complete submission to water's power. The bright side was that the forests and the life that it made possible were magnificent, and that rainwater was the best water I have ever tasted.
Water comes to our planet in a variety of ways (comets, accretion discs & nebulas during star formation) after being created in interstellar molecular clouds dense in oxygen and hydrogen. Within the Orion Molecular Cloud, 1500 light years distant, the equivalent of all the water on the Earth is being created every 24 minutes (1). Despite the extreme rainfall of the Bagua Mountains, the area of Earth with the richest concentration of fresh water is the Great Lakes of North America – our home. We can only live 3 days without water. Because water is so essential for life, it is the ultimate commons and demands the most vigilant of environmental protections. Blue is the new green.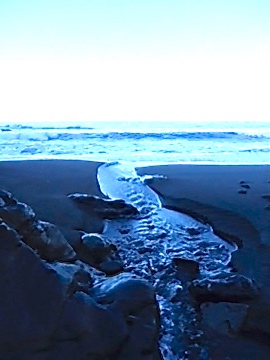 Although 66% of our total body weight is composed of water, on a molecular basis 99% of all the number of molecules in our body are water (2). Our bodies partition our total body water into water within the cells or, our reservoir (two thirds) and water outside the cells, or the body's flowing streams (one third). The innate intelligence of life balances our dry streams by taking from the reservoir and giving to the area outside the cells when we are dehydrated and giving it back to the cells when we are rehydrated. The kidney also plays a role by conserving water when we are dry and eliminating water when we're not. This automatic hydration/balancing act by the body occurs long before the sensation of thirst arises, meaning that by the time we are thirsty we are already well down the road to dehydration (3,4,5,6,7,). And, it is worth noting that driving your car while 1 to 2 % dehydrated results in mental impairment equal to driving while illegally intoxicated with alcohol (14). The most sensitive and easily observable indicator of our hydration status is urine color. Clear to champagne color means hydration and pencil yellow means dry, but remember dehydrating caffeine & alcohol can make the urine clear, and non-dehydrating vitamin supplements can make your urine more yellow (8). The general rule for adult maintance of adequate hydration is to drink 2 to 3 liters of water per day, more in hot weather, slightly less in cold weather (7,9). Everyone should try to drink their maintance water as early in the day as possible and mostly between meals. Drinking late will interfere with sleep because of bathroom breaks, and drinking large amounts with meals will interfere with digestion.
Through the millennia, among many ancient healing traditions, water was thought to be the primary and most potent of all the other primordial elements of nature – over the earth, air, fire, and space elements. These healers knew that water was the most powerful and precious resource on Earth. Recent scientific advances are confirming what the ancients knew. Water's chemical properties are unusual because of a combination of small molecular size and high charge. Each molecule contains four charges; two electro positive – the two hydrogens, and two electronegative – the single oxygen with its two unpaired electrons. These four charges are located along the four points of a pyramid which allows strong polar or magnetic-like interactions as well as a high degree of spacial orientation. With two donors of charge and two receptors of charge, water is highly reactive (2,10,11). Water is a very special substance compared to all others, and is capable of existing in a fourth phase beyond the usual solid, liquid and gaseous forms. Water changes form into a raw egg white like consistency as well as its physical and chemical properties when it comes in contact with living surfaces. This transformation and it's ability to "self associate" changing itself from H2O into H3O2 is accentuated by light and especially infra-red heat energy that occurs freely everywhere in our environment (2). Most of the water in our cells is in this gel like phase or liquid crystal form where it is thought to play a central orchestrating and organizing role in all cell processes. Water is not a passive solvent in our bodies for our macromolecules (DNA, enzymes, structural proteins), cell structures and their functional relationships that science has so thoroughly focused on in the past. Instead, water's fourth phase is actually dancing with and in some cases directing our biological molecules, playing a dominant role in turning genes on and off in our DNA, causing proteins to change their conformational shape, keeping the inside of each cell with a healthy negative charge, improving energy efficiency by acting as a battery, creating " intracellular wiring" for electron and proton flows, and enabling electro-magnetic energy information transmission at the speed of light (2, 12, 13, 15). Recent advances in weak magnetic field measurement, MRI diagnostics, and various spectroscopic techniques have enabled the investigation of the quantity and quality of this fourth phase of water in living healthy, as well as unhealthy cells like cancer or Alzheimer's affected neurons. This frontier of research is indicating that our degree of robustness, health and resistance to diseases like cancer, neurodegenerative, and even infectious diseases may be directly related to the status of the fourth phase of water within our cells (2, 13). We are also learning that environmental pollutants like glyphosate (Roundup) lead and mercury are disrupters of healthy cell water structure and weaken our resistance to many diseases (13, 16).
What can we do to help achieve a healthy water status in our body? First, maintain adequate hydration by remembering to drink before you are thirsty. Second, remember the genius of the Scandinavians and spend some time in the sauna especially during dark winters. That heat energy enhances the formation of the gel state of water in our cells. Third, drink green juice, coconut water, and eat lots of vegetables and fruits as most of the water consumed with these is in the fourth phase and is more easily absorbed than regular bulk liquid water (2). Also many of the phytonutrients in plants are becoming known to help structure intracellular water as opposed to destroying it like pesticides and herbicides (13).
Water is a gift to us from Mother Earth that she herself was given from the cosmos. Water is characterized by its ability to associate with itself and grow into a complex and dynamic structures in a fourth phase. It uses and transforms energy, reacts to stimuli, does work, and regenerates and reproduces itself and it's complex structure. This, is also the definition of life. The gift of water is life, because water is life.
References
Melnick, Gary, Astrophysist Harvard University (2011)
Pollack, G, "The Fourth Phase of Water: Beyond Solid Liquid and Vapor" Ebner and Sons Publishers, Seattle WA. 1-341 (2013)
Boron, W; Boulpaep, E; "Medical Physiology", Elsevier / Saunders Philadelphia, PA (2005)
Bedogni, G et.al., "Body Water distribution and Disease" Acta Diabetol 40: 200-202 (2003)
Ritz, P et.al., "Effects of Changes in Water Compartments on Physiology and Metabolism" European J. of Clinical Nutrition 57: 2-5 (2003)
Ritz, P et.al. "The Importance of Good Hydration for Day to Day Health" Nutrition Reviews 63: (6) 6-14 (2005)
Jequier, E et.al. "Review, Water as an Essential Nutrient: The Physiologic Basis of Hydration" European J of Clinical Nutrition 64: 115-123 (2010)
Armstrong,L "Hydration Assessment Techniques" Nutrition Reviews 63: 6 40-54 (2005)
Swaka,M et.al. "Human Water Needs" Nutrition Reviews 63: 6, 30-39 (2005)
Pollack, G, Cameron, I, Wheatley, D; "Water and the Cell" Springer Publishers, The Netherlands (2006)
Roy, R, Tiller, W, Bell, I, Hoover, M: "The Structure of Liquid Water; Novel Insights from Materials Research and Potential Relevance to Homeopathy" Materials Research Innovations 577-608 (2005)
Montagnier, L et.al.; "DNA Waves and Water" J Phys (December 2010)
Davidson, R, Lauritzen, A, Seneff, S: "Biological Water Dynamics and Entropy: A Biophysical Origin of Cancer and Other Diseases" Entropy 15 3822-3876 (2013)
Maughan, R ; "Mild Hypohydration Increases the Frequency of Driving Errors" Physiology and Behavior 147 pg 313-318 (2015)
McDermott, L et.al; "DNA's Chiral SPine of Hydration" ASC Central Science (2017)
Sharma, A et.al. "Effect of Health-Promoting Agents on Water Exclusion-Zone Size" Dose Response 16 (3) 1-17 (2018)